A selection of some projects we are currently working on …
Coterie Town Homes, Windsor, Brisbane
Aura Multi Unit Apartments, Milton, Brisbane
The urbane and contemporary architectural aesthetic was inspired by the location of the site,its attributes,opportunities,constraints and the contextual relationship with the surrounding precinct. The building form consists of podium and tower and contains a total of 80 apartments over 20 stories. The horizontal expression of the podium with a striking colourful abstract graphic is a counterpoint and anchor to the strong verticality of the monotone tower. Robustly articulated facades envelope the orthogonal floor plate in response to the hard edges of the adjoining built environment. Structural projections and recesses create strong articulation further modulated with contrasts of light and dark greyscale toning. Exclusive outdoor recreation areas located on the podium (gym and pool) and roof top (BBQ,outdoor dining and lounge areas) provide opportunity for the residents to have choices of active physical & passive social relaxation whilst enjoying  Brisbane's subtropical climate and spectacular views of the city and mountains.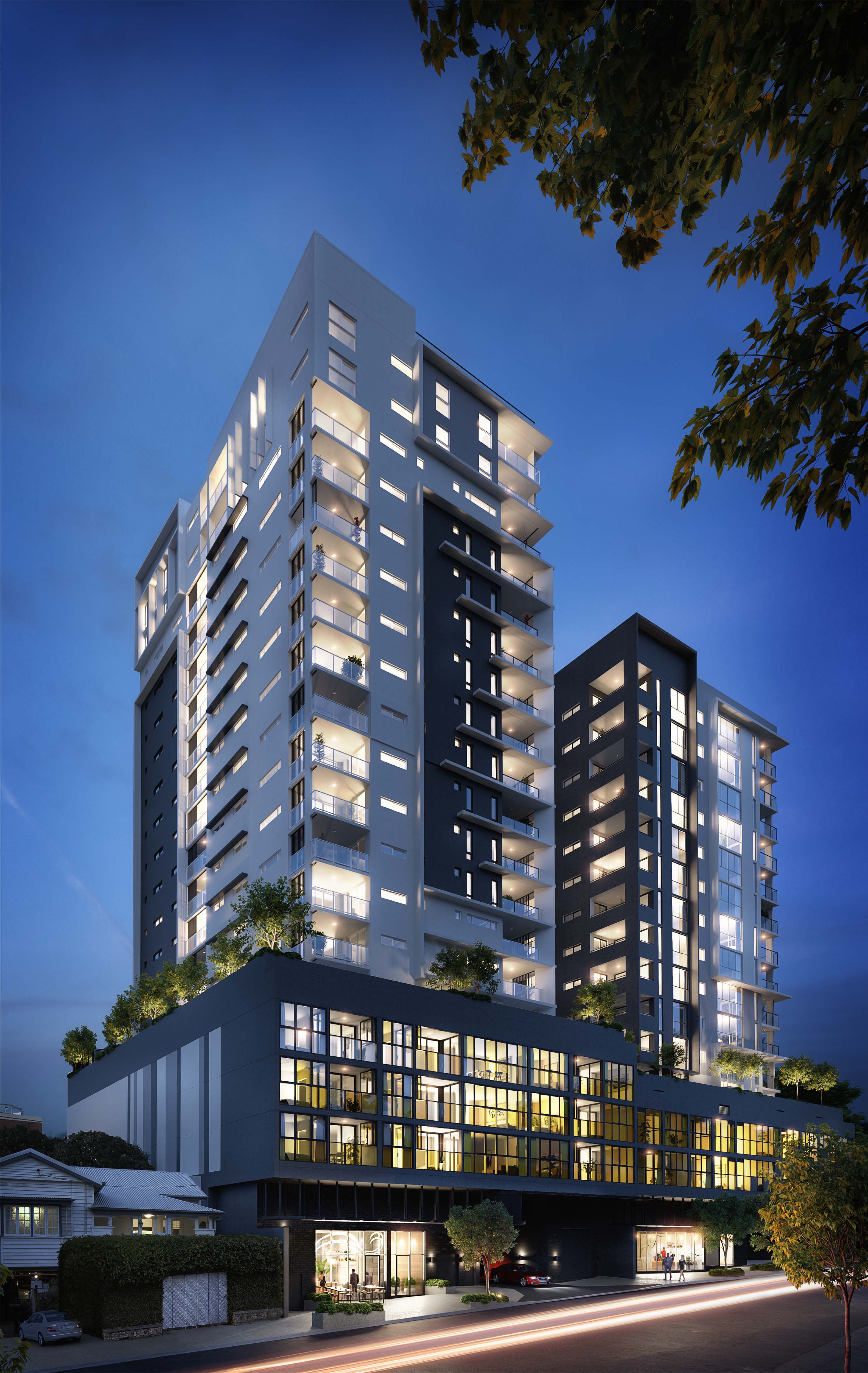 LANG STREET RETIREMENT LIVING, BILINGA, GOLD COAST
The site is highly visible and prominent as you cross the border from NSW into Queensland, conducive and belonging for a landmark development.
The 10 storey development consists of 76 independent living units and is designed to promote a high standard of retirement living in the Gold Coast region.
The sea shell inspired organic design ensures each independent living unit has ocean views and cool sea breezes.
The dynamic street awning plays homage to the crashing waves of the surrounding beaches creating an active streetscape.
These design concepts along with practical planning has generated a residential development which will provide a comfortable lifestyle to its occupants whilst contributing to the surrounding community.
THE ATRIUM LUTWYCHE, LUTWYCHE, BRISBANE
The main intent behind the design is to provide high quality retirement living that provides a positive contribution to  the current and future precinct developments as guided by the Lutwyche Road corridor neighborhood plan.
The development consists of 60 units in 5 different types.
Design intensions were to create :
Spacious internal units for retirement living with plenty of natural lighting and ventilation.
High quality residential communal areas.
A building that integrates with the scale of the surrounding urban context.
A unique architectural feature appropriate at both an urban and street scale.
The following strategies are adopted to achieve the design intentions above :
Break down the building into several massing compositions in response to internal function requirements, the local urban context and climatic conditions.
Articulate and enhance the massing composition with legible but playful architectural vocabulary to create a unique architectural feature.
Utilize weather protection and shading devices combined with different materials, colour tones and textures to provide visual richness to the building's overall appearance.